[The story of Oh Jae-seon's international ski instructor] 2011 NZ Cardrona # 10 - Button Competition, Demo & 10 Task & Training
The Cardrona ski area hosts the annual Burton Open snowboarding competition.
It is a world championship with famous pros and Olympic medalists.
Slope style and half pipe opens like this.
Two years ago, Olympic gold medalist Sean White came in and won this year.
Japan's Ryo won the halfpipe this year.
I would like to see the big players in Korea go up to the podium.
There is an energy drink monster cans on the slope style starting point.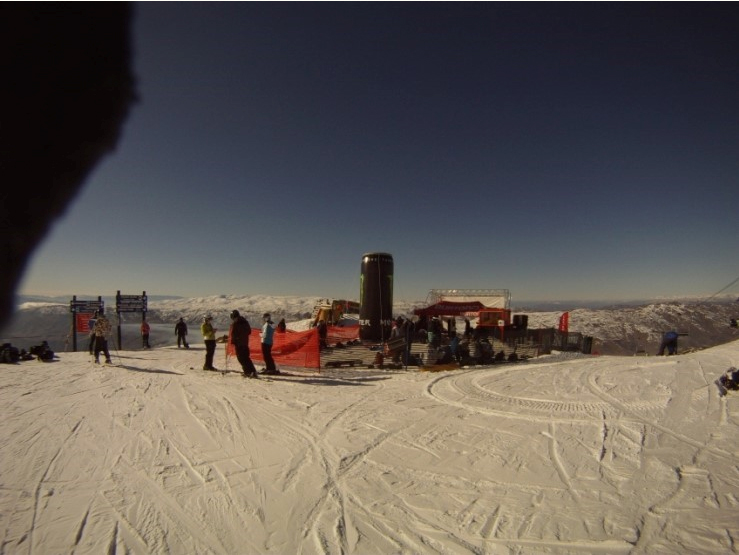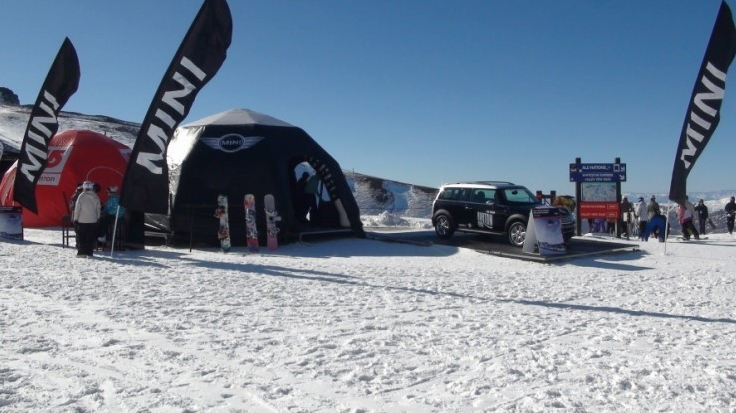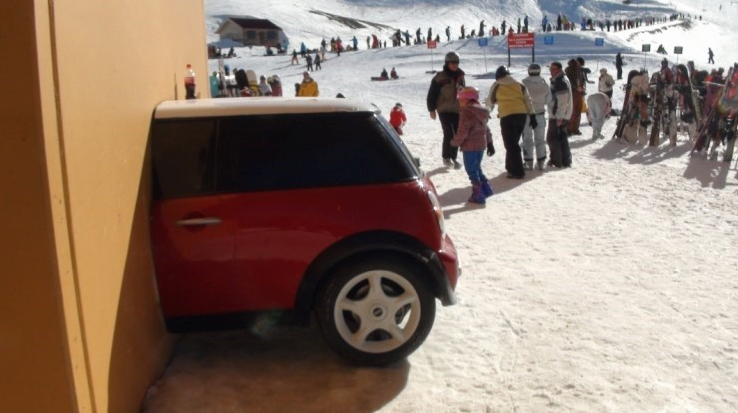 This button open is sponsored by Mini Cooper.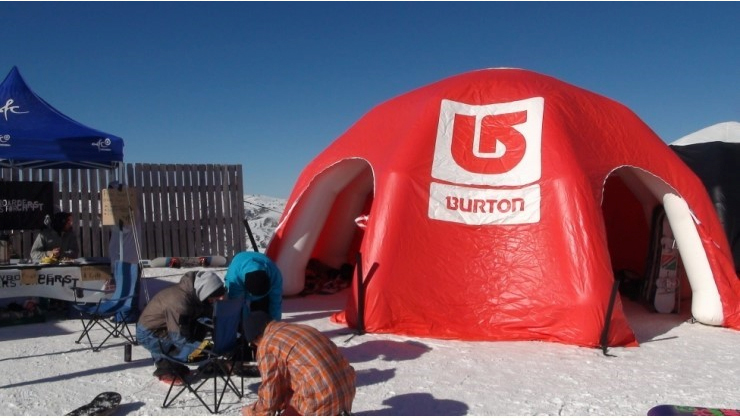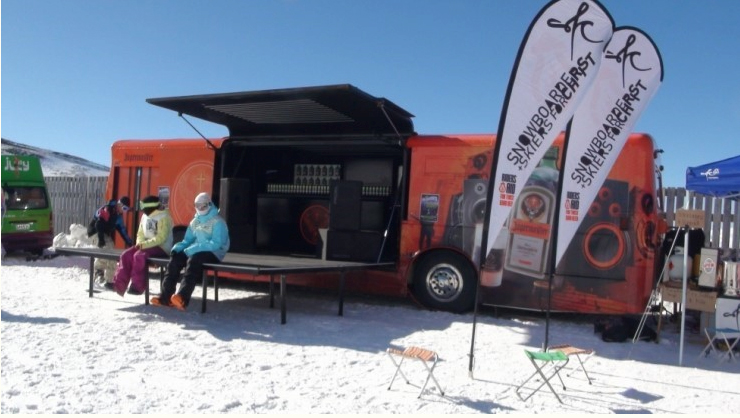 There is also a pre-event meister event.
I also gave a snowboard deck as a gift through a lottery.
I got one flatmate. Hehe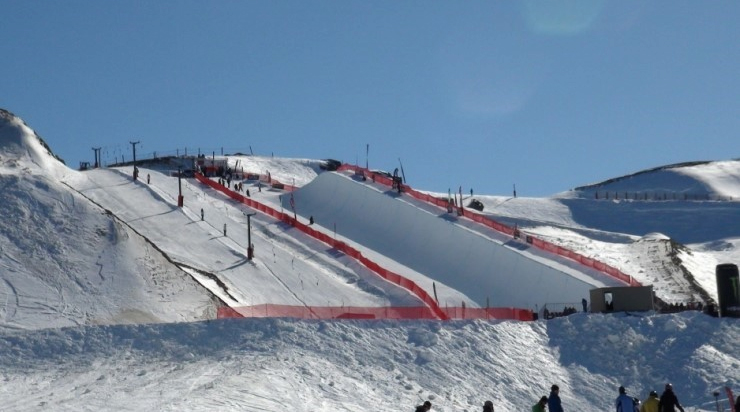 There is a game in the half pipe

The slopes are cool. Hahaha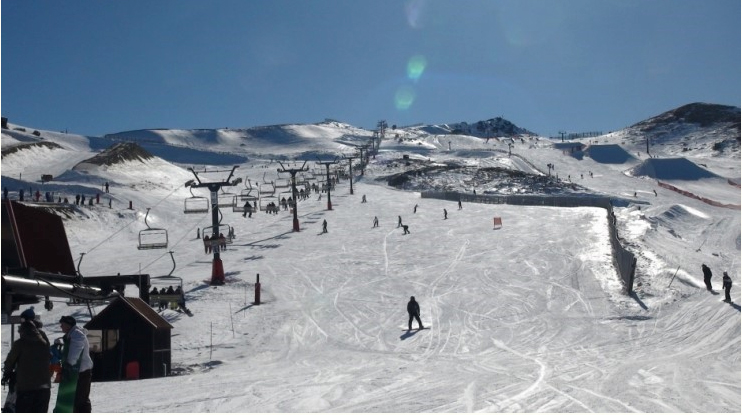 Today we have one program for local students.
I have to name Wizard !!!!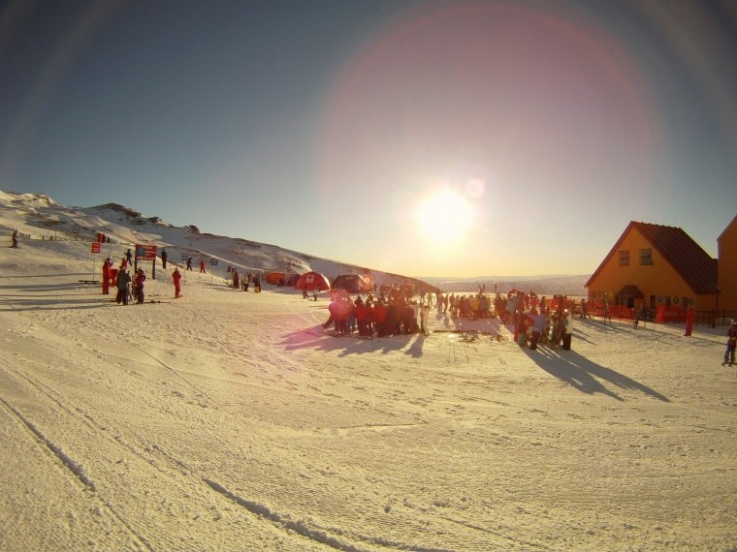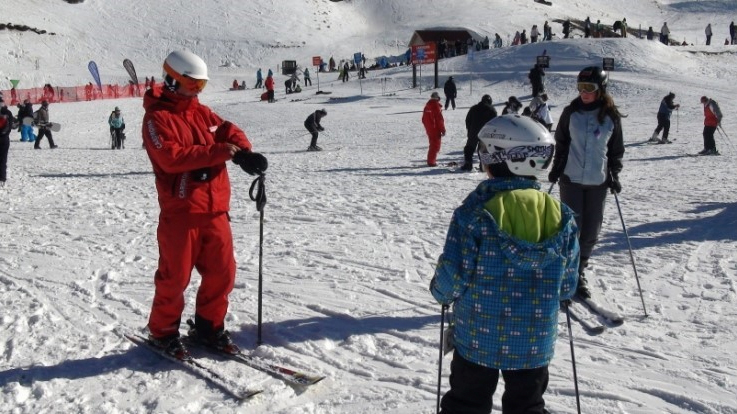 It will be held every 6th week and every Friday.
I was in charge of the Yellow Group (advanced level over Parallel).
I was able to enjoy skiing all over the place because all of my friends were riding to some extent.
Because of the nature of the kids' classes,
I was able to enjoy the class with the feeling of enjoying it with the kids rather than feeling that I was going to do it because it is a way to increase the sense of burning more than many explanations .

The children were so nice and good guys too.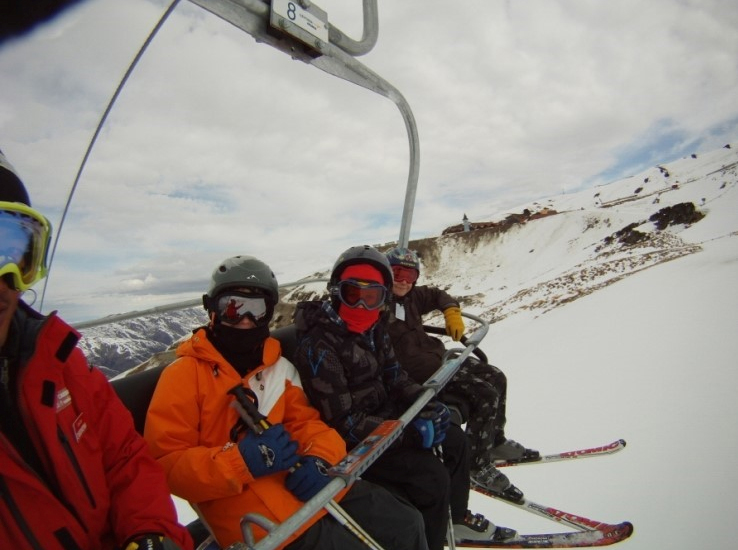 Jack, Hamish, and also Hamish. I called them because they had the same name and they both looked at it. haha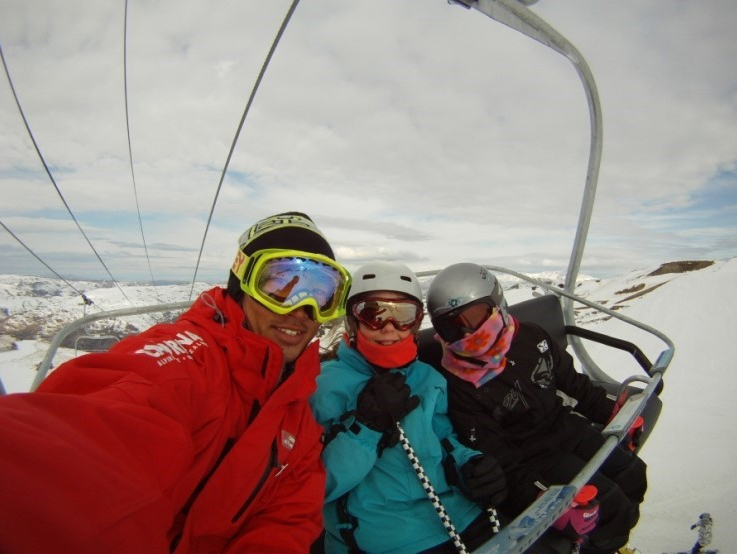 Sophie, and Milly. Sophie got up quickly and went up to the next class.

How to use pole checking or edging more, and I'll speed up a little.
As time went by, I went to various places such as irregular branch, mogul, and accumulated skills.
I became friends with the kids, so I was enjoying my skating and having fun on every Friday
.
However, these friends made me embarrassed.
Can not kids go to our park? Can not you go half pipe? " This is it.
I've asked you if you've ever done it before. Hooray ~~~
'What to do ???? I do not know about parks or half pipes ... ... . '
I was practicing carving from a well-rounded slope to a good posture,
and the rails, boxes, kickers and half pipes in the park were a distant story.
But the kids here are different.
Many of my friends are interested in freestyle and they are
really good. Children also want to learn a lot.

I can not say 'I do not know how to do' in the face of the lecturer ... ... ... .Oh yeah… I was embarrassed.
'I have to wear a helmet to get there, but I can not have a helmet today. "Let's say then!
The first day we were able to continue the assault against so look around.
But what about next week? I am sure the kids will go again.
I told them that next week I should wear a helmet.
I am so worried that the class is almost finished ... .
On the way back to the base,
there is a small park for the kids, where I decided to see the kids' skills.
He explained the safety and basic skills at the park and said,
'I will not go down safely because I did not use my helmet today. You guys do it carefully as you did before 'I
went down and saw the kids burn.
Hehe
I overestimated them.
Actually, there are a lot of kids flying in Wanaka, so
I thought about that too much.
Like a fool ... ... ...
It's cute ... I think the kids are kids ~ ~ and I feel
relieved that 'I can control the fairy' .

I do not know what will happen in the future, but I'll
ask my fellow instructors to get some basic rails, boxes, kickers, and half pipe lessons.

I
know that teaching is not a big difference because I do not know and do not know.
I know a certain degree of confidence, and
I will not be embarrassed by the words of the kids like this time.
Once I finish the level 3 exam, I will have to learn some time in the end of the season or next season.

I'm afraid to hear that a colleague told me that I went back and forth to the petrol room once every two days from the moment I entered the twin tip filing box .
It's not too old ... .LOL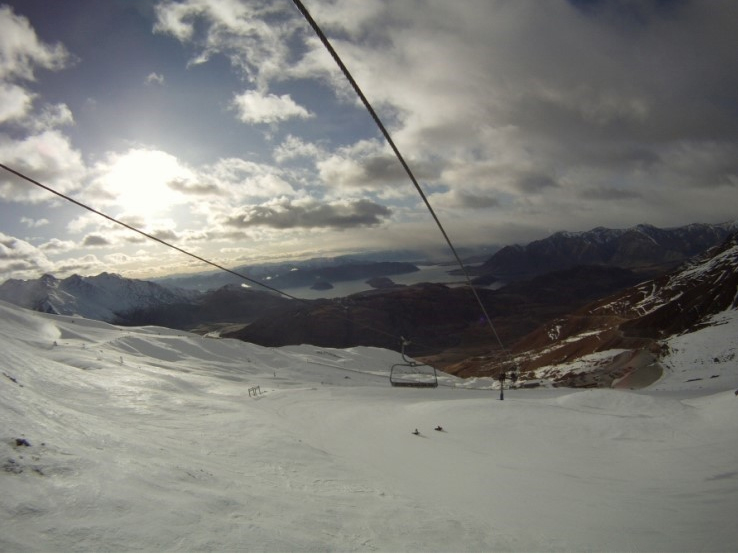 We have found the Treble Cone ski resort again.
Today is the day of NZSIA's Demo & 10 Task Training.
You can think of it as a ski training for the level 3 preparers.
Demo is a
demonstration that shows the students to the class while practicing from Wedge Turn to Advanced Technology .
10 Task is an item included in sking test with 10 application motions.
It seems to me how to deal with skiing and understand the exact skiing mechanism.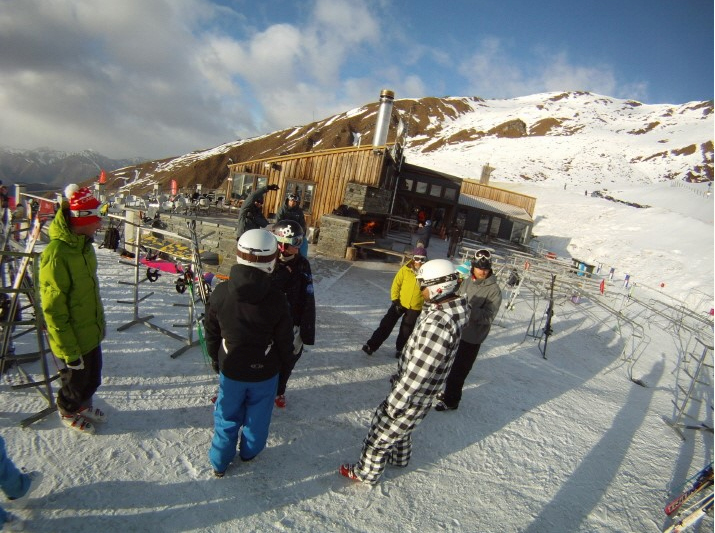 There are many other skiers including Coronet Peak and Treble Cone.
Perhaps those who will be taking this Level 3 exam together.
Trainer is Matt and Jonathan.

Olly and Alex
, along with other friends to prepare for the exam together, came along.
Rose and Rachel to take the exam next year. Orla to pass the theory and retake the sking this year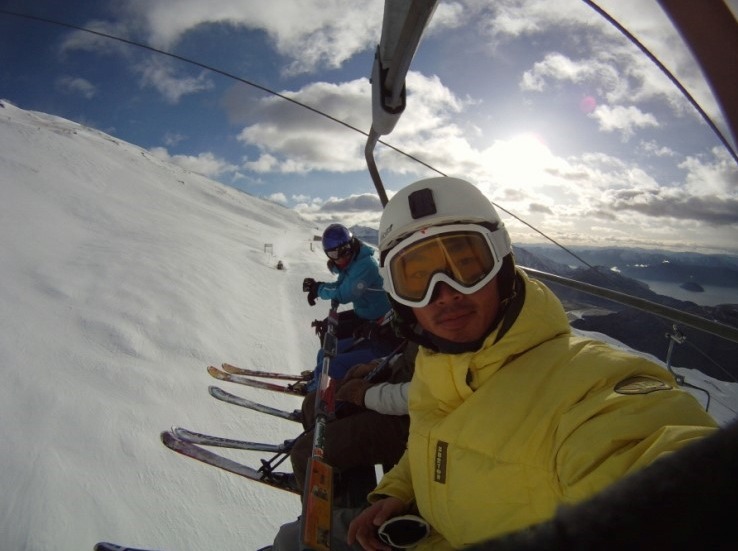 So let's look at 10 tasks.
It's a bit disappointing because the video is a little old ... Please refer to it.

Railway Track
I try to change the edge from a gentle slope.
It is
an application movement that causes the heap to fall over and the edge angle to occur naturally through the inclination of the ankle and knee, not the motion of the hip or other joints . Of course, the two skis must move together and have the same edge angle
.

180 Into Switch
It is a motion that rides a paralel and jumps and it rotates 180 degrees and it comes down after a paralel.
It's hard not to come back down, but I was not used to jumping and going 180 degrees.

Pivot Slip
The base part of the ski comes into contact with the snow and it slides naturally, and the
center of the soles becomes a pivot point, making the turn constant.
The upper body is also
often used when teaching Shotton as an application operation where the fixed, pivot point and rotation movements are the main priorities.

Full Range Of Movement
It's easy to say that I over ride up and burn big.
It is also a point to watch up-down timing and to use all the joints appropriately so that the posture does not go out when the posture is lowered.
It is a New Zealand style with a weak up-down compared to the
Korean style of skating, so it was as if you were in Korea, or you could over ride a little over there.

Edge Change with Flexion
It is easy to say that it is a bending turn.
Riding upside down timing ... ... ... ... ... ... It seems that the amount of up-down is not too large either.
It
is an application behavior that is often used when teaching techniques that must stay low at edge changes such as carving or mogul .

Javelin Turn
This is a lot of things. Zablinton !!
Exact weight shift to the outer foot, strong outward movement of the feet and a strong rotation movement of the foot
can be said to be the point.

Basic Jump
It is literally a basic jump. It's not a big jump either. You do not have to do any tricks.
Just a simple jump. The approach, the balance in the air, and landing,
so I do not have any discrimination, so I try hardly even when I try.
One Ski Turns
One Ski !!!! You do not need explanation.
It comes down on one foot. Whether it will be your right foot or your left foot depends on the examiner.
I have an examiner who gives them both. The person who makes it from the courier, the person who makes it in the.
Carving, skidding.
Everything was a test tube.

Speiss Turns.
It is easy to say 'jump turn'. This is my favorite task. ㅎㅎㅎ
sikigido this will also sikigido in wansa, and sudden death, and ... .
More than 10 or more than 15 ... . Moody is a test-tube heart.
World Cup skiing Heavy races and practice I was practicing rent skiing.
But I can not rent a car when I see this ... ..
Whitepass Turns
It's called Roigny Genton. You can change the edge of the ski slope with only one ski on the valley side. ...
Center shift and balance point
It is not such a difficult move.
But it is part of the test, so you have to show the correct shape so you can not neglect your practice.

10 Task in ski practice. Theory preparation. I have a lot to do.